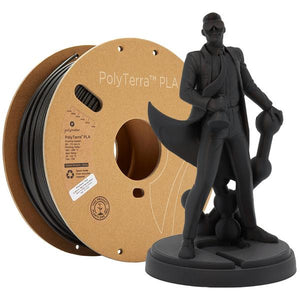 PolyTerra PLA 1.75mm Charcoal Black
Polymaker's PolyTerra is one of our newest premium quality filaments, and it's environmentally friendly!
Union 3D Printing donates 3 🌳 (trees) for every roll of PolyTerra PLA sold. Polymaker plants 1 tree for every roll of Polyterra sold!
PolyTerra™️ PLA is a bioplastic based 3D printing filament designed from the ground up to create the next generation of PLA, providing ease of use, printing quality, speed and reliability. It is a sustainable product sourced naturally and for every spool produced a tree is planted to give back to the earth.
1KG Roll
PRINT SETTINGS
Nozzle Temperature:
190˚C – 230˚C
Printing Speed:
30mm/s – 70 mm/s
Bed Temperature:
25˚C – 60˚C
Bed Surface:
Glass, Blue Tape, BuilTak®
Cooling Fan:
ON
Based on 0.4 mm nozzle and Simplify 3D v.3.1. Printing conditions may vary with different printers and nozzle diameters
MECHANICAL PROPERTIES
Young's Modulus:
1882 ± 141 Mpa
Tensile Strength:
20.9 ± 2.0 Mpa
Bending Strength:
39.6 ± 1.1 Mpa
Charpy Impact Strength:
5.7 ± 0.4 kJ/m2
THERMAL PROPERTIES
Glass Transition Temperature:
60.6˚C
Vicat Softening Temperature:
62.7˚C
Melting Temperature:
162.6˚C