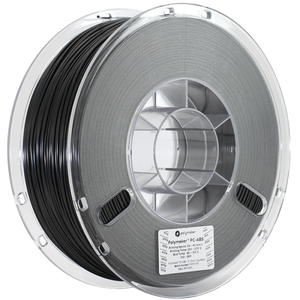 Polymaker PC-ABS 1.75mm Black
Union 3D Printing donates 1 🌳 (trees) for every roll of PC sold.
The Industrial range of products provides engineering-grade materials to unlock the use of 3d printing in multiple industries for new applications. Industrial products can require specific equipment and skills.
This Specialty family provides unique filaments from Polymaker to unlock new 3D printing applications.
Polymaker™ PC-ABS is a PC/ABS polymer blend which offers excellent toughness and heat resistance while displaying a good surface finish and good compatibility with metal plating.
1KG Roll
RECOMMENDED SETTINGS
Nozzle Temperature:
250˚C – 270˚C
Printing Speed:
30 – 50mm/s
Bed Temperature:
90˚C – 105˚C
Chamber Temperature:
90˚C – 100˚C
Bed Surface:
almost any surface with a thin coat of PVA glue or MAGIGOO PC
Cooling Fan:
OFF
Based on 0.4 mm nozzle and Simplify 3D v.4.0. Printing conditions may vary with different printers and nozzle diameters
MECHANICAL PROPERTIES
Young's Modulus:
1832 ± 65 (MPa)
Tensile Strength:
39.9 ± 1.0 (MPa)
Bending Strength:
66.3 ± 1.3 (MPa)
Charpy Impact Strength:
25.8 ± 1.4 (kJ/m2)
THERMAL PROPERTIES
Glass Transition Temperature:
109˚C
Vicat Softening Temperature:
135˚C
Melting Temperature:
N/A
NOTES
Drying Settings:
80˚C for 8h
Recommended Support Materials:
PolyDissolve™ S2 (coming soon)
Other:
When printing with Polymaker™ PC-ABS it is recommended to use a heated chamber.
It is recommended to anneal the printed part right after the printing process to release the residual internal stress when not using a heated chamber.
Annealing settings: 90˚C for 2h