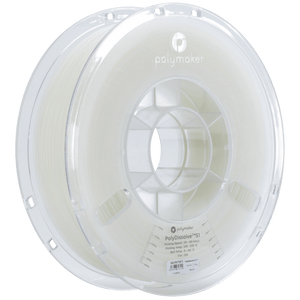 PolyDissolve S1 1.75mm
PolyDissolve™ is a family of dissolvable support filaments. This family offers support solution for our portfolio of filaments. It enables a greater design freedom.
PolyDissolve™ S1 is a water dissolvable support for PLA, TPU, PVB and Nylon based filaments from our portfolio. It is specifically engineered to have a perfect interface with these materials while also displaying good solubility.
750g
PRINT SETTINGS
Nozzle Temperature:
215˚C – 225˚C
Printing Speed:
20mm/s – 40mm/s
Bed Temperature:
25˚C – 60˚C
Bed Surface:
Glass with glue, blue tape
Cooling Fan:
ON
Based on 0.4 mm nozzle and Simplify 3D v.3.1. Printing conditions may vary with different printers and nozzle diameters
MATERIAL COMPATIBILITIES
PLA based material from Polymaker's portfolio + +
PETG based material from Polymaker's portfolio +
ABS based material from Polymaker's portfolio – –
PC based material from Polymaker's portfolio – –
PVB based material from Polymaker's portfolio + +
TPU based material from Polymaker's portfolio + +
Nylon based material from Polymaker's portfolio + +
+ + support the model very well
+ generally support the model depending on its geometry
– generally doesn't support the model depending on its geometry
– – do not support the model
NOTES
Drying Settings:
80˚C for 12h
Recommended Support Materials:
N/A
Other:
It is highly recommended to use the PolyBox™ when printing with PolyDissolve™ S1 and to store it in the resealable ba