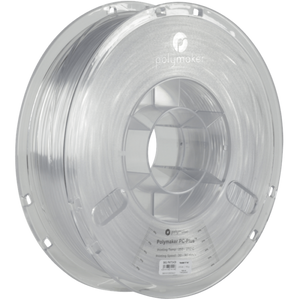 Polylite PC 1.75mm Transparent
Union 3D Printing donates 1 🌳 (trees) for every roll of PC sold.
PolyLite™ is a family of 3D printing filaments made with the best raw materials to deliver exceptional quality and reliability. PolyLite™ covers the most popular 3D printing materials to meet your everyday needs in design and prototyping.
PolyLite™ PC is produced using a polycarbonate resin specifically engineered for 3D printing. It delivers good stiffness and heat resistance with light diffusing properties.
PRINT SETTINGS
Nozzle Temperature:
250˚C – 270˚C
Printing Speed:
30mm/s – 50mm/s
Bed Temperature:
90˚C – 105˚C
Bed Surface:
MAGIGOO PC
BUILDTAK
Cooling Fan:
OFF
Based on 0.4 mm nozzle and Simplify 3D v.3.1. Printing conditions may vary with different printers and nozzle diameters
MECHANICAL PROPERTIES
Young's Modulus:
2307 ± 60 Mpa
Tensile Strength:
62.7 ± 1.3 Mpa
Bending Strength:
100.4 ± 2.7 Mpa
Charpy Impact Strength:
3.4 ± 0.1 kJ/m2
THERMAL PROPERTIES
Glass Transition Temperature:
113˚C
Vicat Softening Temperature:
119˚C
Melting Temperature:
N/A
NOTES
Drying Settings:
80˚C for 8h
Recommended Support Materials:
PolySupport
Other:
When printing with PolyLite™ PC it is recommended to use an enclosure. For a large part it is recommended to use a heated chamber.
It is recommended to anneal the printed part right after the printing process to release the residual internal stress.
Annealing settings: 100˚C for 2h