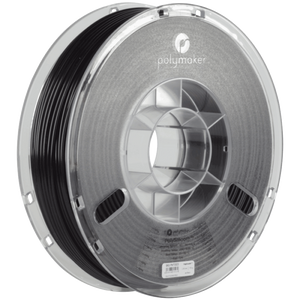 PolySmooth 1.75mm Black
This Specialty family provides unique filaments from Polymaker to unlock new 3D printing applications.
PolySmooth™ is a unique, easy-to-print filament designed for hands-free post processing. The surface can be smoothed with alcohol to achieve layer free models using the Polysher™.
750g Roll
PRINT SETTINGS
Nozzle Temperature:
190˚C – 220˚C
Printing Speed:
40mm/s – 60mm/s
Bed Temperature:
25˚C – 70˚C
Bed Surface:
Glass with glue, blue tape
Cooling Fan:
ON
Based on 0.4 mm nozzle and Simplify 3D v.3.1. Printing conditions may vary with different printers and nozzle diameters
MECHANICAL PROPERTIES
Young's Modulus:
2047 ± 111 Mpa
Tensile Strength:
39.8 ± 0.7 Mpa
Bending Strength:
64.9 ± 1.2 Mpa
Charpy Impact Strength:
9.2 ± 1.2 kJ/m2
THERMAL PROPERTIES
Glass Transition Temperature:
70˚C
Vicat Softening Temperature:
70˚C
Melting Temperature:
N/A
NOTES
Drying Settings:
60˚C for 12h
Recommended Support Materials:
PolyDissolve™ S1
Other:
It is highly recommended to use the PolyBox™ when printing with PolySmooth™ and to store it in the resealable bag.