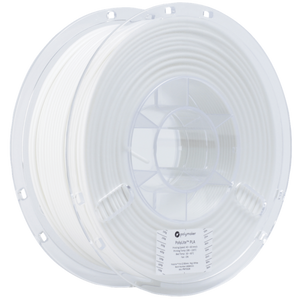 PolyLite PLA 1.75mm White
Union 3D Printing donates 2 🌳 (trees) for every roll of Polylite PLA sold.
Polymaker's PolyLite is one of our newest premium quality filaments!
PolyLite™ is a family of 3D printing filaments made with the best raw materials to deliver exceptional quality and reliability. PolyLite™ covers the most popular 3D printing materials to meet your everyday needs in design and prototyping.
PolyLite™ PLA is a high-quality PLA designed for reliability and ease of printing.
PRINT SETTINGS
Nozzle Temperature:
190˚C – 230˚C
Printing Speed:
40mm/s – 60mm/s
Bed Temperature:
25˚C – 60˚C
Bed Surface:
Glass with glue, Blue Tape, BuildTak®
Cooling Fan:
ON
Based on 0.4 mm nozzle and Simplify 3D v.3.1. Printing conditions may vary with different printers and nozzle diameters
MECHANICAL PROPERTIES
Young's Modulus:
2636 ± 330 Mpa
Tensile Strength:
46.6 ± 0.9 Mpa
Bending Strength:
85.1 ± 2.9 Mpa
Charpy Impact Strength:
2.7 ± 0.2 kJ/m2
THERMAL PROPERTIES
Glass Transition Temperature:
61˚C
Vicat Softening Temperature:
63˚C
Melting Temperature:
150˚C
NOTES
Drying Settings:
80˚C for 8h
Recommended Support Materials:
PolyDissolve™ S1, PolySupport™
Other:
N/A