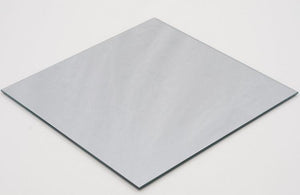 CR10/S Mirror Upgraded Build Surface
A must have upgrade for your 3d printer! The mirrored surface is almost perfectly flat, which is a major upgrade compared to the stock aluminum bed. This will ensure easier leveling, and a super glossy surface finish on the bottom of your prints.
Size is 300mm x 300mm and will work on any other 3D printer with the same or larger build area. 
Simply place on top of the existing surface and attach with a few binder clips.